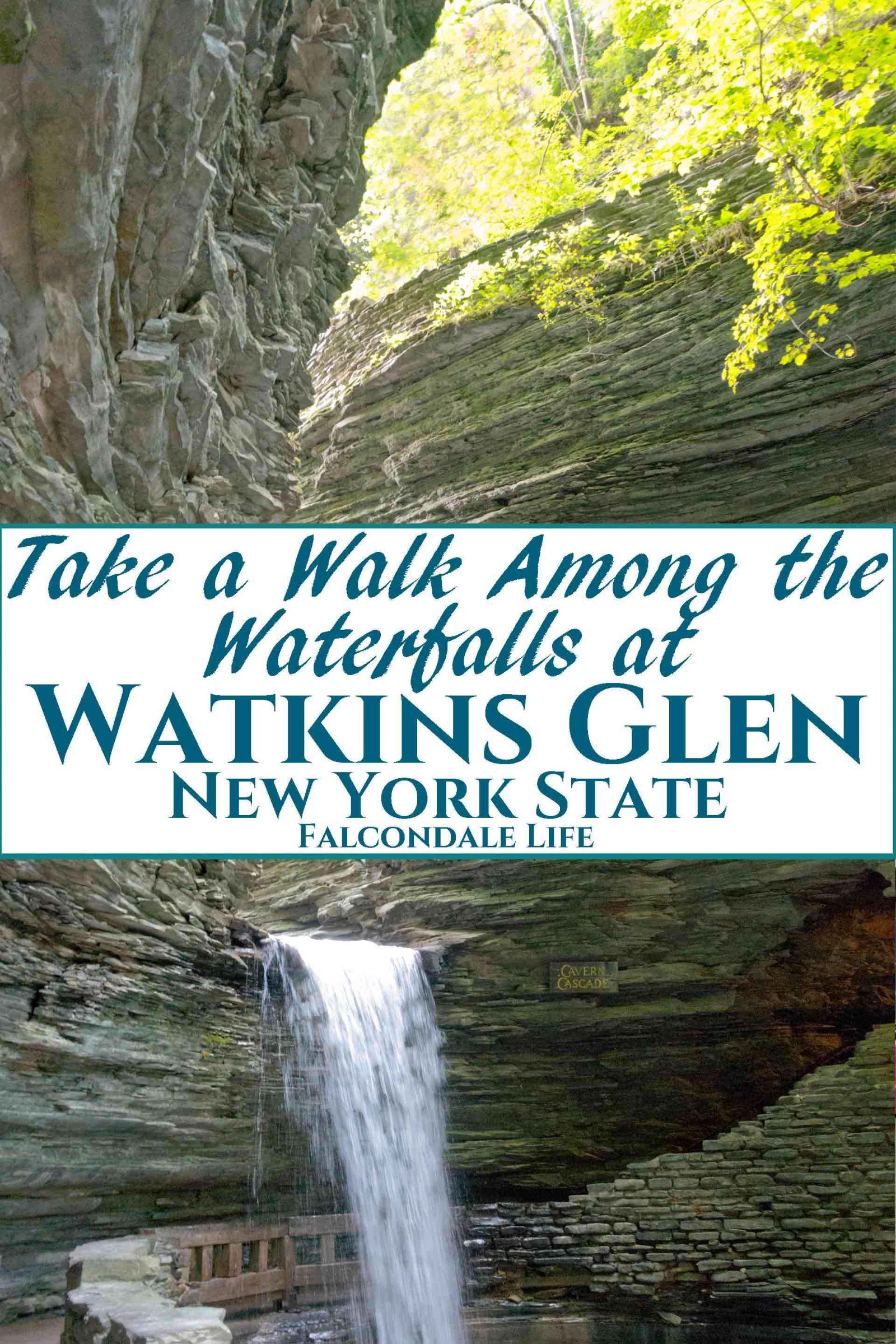 For the ultimate in waterfall walks it's hard to beat Watkins Glen. Located in the Finger Lakes region of New York State, this beautiful river gorge has 19 waterfalls along a hiking trail of under two miles. The water has eroded curved pools down through cliffs where the light catches on the striated rock face. There are waterfalls under bridges, gushing over paths and pouring from crevices. It really is quite magical.
The hike itself – practical information
The hiking trail within the gorge has well-maintained paths, staircases and bridges giving excellent views. As it descends 120 metres (400 feet) in such a short distance, we found that it was easy to do the hike from the top to the bottom of the gorge. There is a car park in the village at the bottom, where a shuttle bus collects visitors. The ten minute ride to the top of the gorge cost us $5 each.
The biggest challenge on this hike was staying together. We all took so many photos but we got a bit strung out along the path. You can't get lost really; there are few turn-offs and the main route is obvious.
Photographing Watkins Glen
There's a lot of shade and darkness with bright sunlight above through the trees. It's a good walk for a hot day but photos are tricky with the high contrast. Also you can't avoid getting wet in a couple of spots, so be careful with your camera.
The ideal waterfall shot is of course a long exposure. When we visited it was really bright, so that was too tricky. Watkins Glen is busy, so setting up a tripod may be a little inconsiderate to others. However the path is quite wide in a few places. We visited late in the afternoon on a summer weekend and some of the most famous views were full of people milling around.
Many of the paths are lined with a nice, flat-topped wall on which we could rest our cameras, without the need for a tripod. These days I don't go on family walks with bulky things like a tripod and DSLR so I used my compact Sony. It's a bit more limited but I think that having a great day is more important than having a great photo.
Getting to Watkins Glen
This state park is the ideal stop on a road trip from New York City to Niagara Falls. Watkins Glen can be reached from Manhattan in a 4 hour drive and Niagara is 2 hours 45 minutes further on. The trails are open for about six months from May. Details are updated in season on the official park website. Other nearby attractions include the Finger Lakes, Ithaca (more waterfalls) and the exceptional Corning Museum of Glass. Watkins Glen is also famous as the cradle of early motor racing, and there's still a race track nearby. Tourist information is available through the town's chamber of commerce. Add a stopover on your flight route to visit this area by using multi-destination flight search tool AirWander.
Walking behind a waterfall is something to tick off the bucket list! Have you ever done that?
Shop my top travel picks using my affiliate links below. See my
shop
page for details about all my affiliate links.