I was recently asked where in the world is my favourite beach. Even though I've curled my toes in the white sands of Zanzibar, it is much closer to home at Llanddwyn bay that holds the greatest appeal for me.
Llanddwyn Bay
My top beach is on the island of Anglesey. My old OS map calls it Llanddwyn beach but you will more commonly see the name Newborough which is the name of the forest and village nearby. Thanks to the dominance of Google maps the name Newborough seems to be sticking for the beach now too.
We have very happy memories of going there as a family, sometimes with friends or relatives but usually just us. We have had a few completely perfect days there. It's good for swimming, sandcastles, damning little streams, flying kites and playing games. The forest has tracks for walking and cycling too. Did you know that a little sea-bathing used to be prescribed for your health? I have spent maybe an hour at a time floating on a bodyboard in the warm waves here. I have to say it does great things for my skin!
Newborough – or Llanddwyn – is a very big sandy beach with lots of shallow water and gentle waves. Thanks to the gulf stream it is often really warm. The beach is backed by a big pine forest and sand dunes. The view of the Snowdonia coast with all the mountains is the icing on the cake.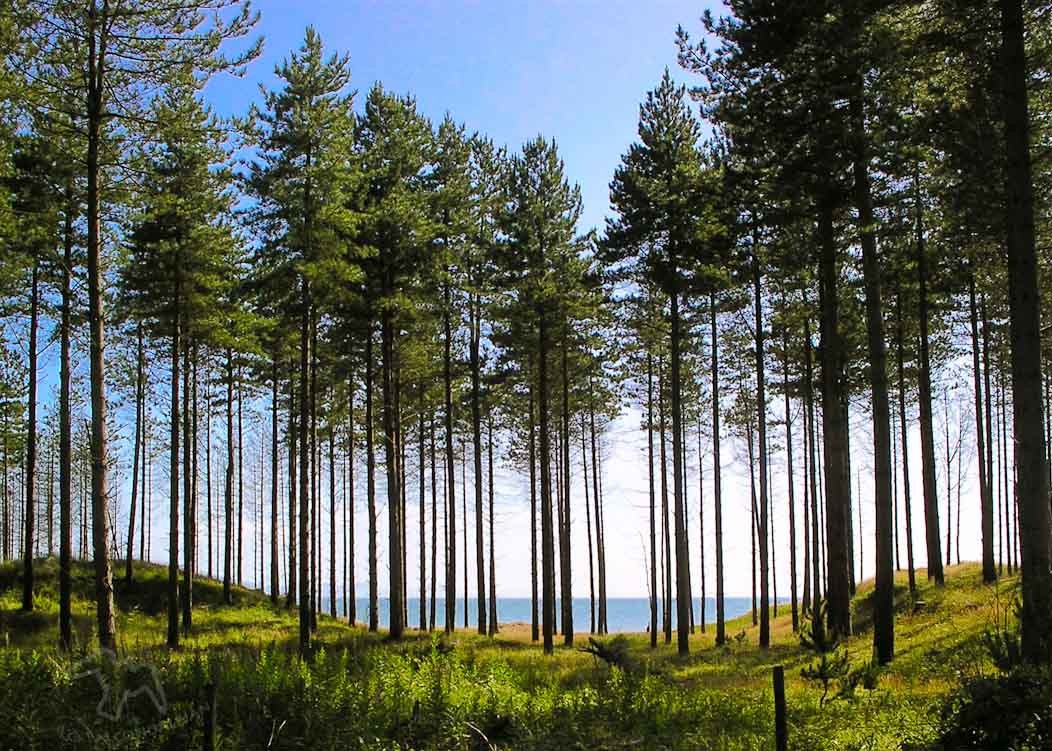 Getting there
Find this beach by driving down a forest track (toll road), away from the hustle and bustle of any town. It is only a 30 minute drive from Caernavon on the mainland. In good weather at weekends or in the school holidays, it's wise to get there before 11am as the car park fills up and the barrier will close.
I think we have had five holidays where we have visited this beach. When staying nearby, if we wake up to good weather then we abandon any other plans and head straight for this beach. This place is top priority! If you spend the day there you can watch the light change across the Snowdonia mountains. It's beautiful but it feels a long time now since we visited.
I have recommended Llanddwyn bay to friends who have found it breathtaking and enjoyed it immensely. Some friends went there in a mild February half term and still had a great time as there are some super walks in the area. You can go out to the lighthouse at the north end of the bay, or wander through the dunes to the south where there are wild ponies.
Tips for visiting the Newborough Area
1. It is very rural. Coastal cottages get booked up 9 to 12 months in advance, but road links are quite reasonable and local traffic is light even in August. If you find a nice cottage which is a bit further out of the way, your journey to the beach will not be too much trouble.
2. Check tide times before visiting. It is still a lovely spot at high tide but the beach is much bigger with more sandcastle possibilities if you can come when the tide is a bit further out. It is generally considered to be a safe beach but there are no lifeguards so don't go far. There are some sandbars revealed at low tide which are super to play on. Keep an eye on the tide coming in behind you. Get comfy with a pop-up beach shelter and don't forget a kite!
3. Supermarkets: There's a Waitrose just north of the Menai bridge. A big Tesco just south of it on the mainland. A small but adequate co-op is in Llanfairpwllgwyngyll. While you are there why not get your photo taken in front of the station sign, which is the longest town name in Britain? In full, the name is Llanfairpwllgwyngyllgogerychwyrndrobwllllantysiliogogogoch.
4. Pubs with food on Anglesey are a bit thin on the ground but The Bridge Inn at Menai bridge is very nice. There's a bit more choice for meals out in Beaumaris. A 30 minute drive to Caernarfon will give you plenty of options. Tea rooms and cafes are more common than pubs with dining.
5. Bring your family bikes. Newborough forest has several tracks and some cycle routes are also signposted through country lanes. Anglesey is a lot flatter than the mainland.
6. There are plenty of family attractions in this area of North Wales. On Anglesey itself we particularly enjoyed Pili Palas nature world, Anglesey Sea Zoo and Foel Farm park, all of which are really close to Llanddwyn bay.
7. Pursuits for teens and adults: If you've ever dreamed of cantering on a horse through the edge of the sea, then you can do this on Anglesey's south coast at the riding centre. The scenery could not be better! Also from Porth Daniel in the Menai strait you can go rib-riding on a speed boat. A day out in Amlwch in the far north of Anglesey will give you a chance to see the island's industrial history. Be sure to visit multi-coloured Parys mountain as part of this.
More
Have you been here to Llanddwyn bay? Where is your favourite beach? Do comment below, I love reading them all.
Read my tips for using a camera phone at the beach or if you like the industrial history of Amlwch, read also my review of the Leeds Industrial Museum.
If you like to take your bikes on a family holiday in the UK then check out Devon's Tarka Trail.
This blog post is featured on Days Out Now
This blog contains affiliate links. If you click on one and then go on to make a purchase, I will receive a small commission. For more details please see my "about" page.