Everything in America is bigger, right? The name "Mall of America" conjures up an image of the biggest shopping mall I've ever seen. It's in the city of Minneapolis, Minnesota; a northerly city in the American Midwest. And yes, it is the BIGGEST mall in the USA!
This is a destination shopping mall which is now celebrating its 25th anniversary year. There's so much extra going on here that people come for vacations and short breaks. You can buy hotel and theme park packages for the Mall of America. That's right, I did say "theme park"! This is the home of Nickelodeon Universe with thrill rides of all kinds right in the center of the mall. In addition there is a superb high-ropes adventure "Dutchman's Deck" with zip-wires right across this huge central space. Also there are two elaborate mini golf experiences and a Sea Life Aquarium. A big Lego store dominates one side of the central area with giant Lego sculptures to admire. There's plenty of dining and still more attractions but we had a kind invitation to try out and review a few.
Moose Mountain Adventure Golf
This is the first of two mini golf attractions which we tried. We liked the wild west mountainous set which meant it was a bit like threading our way through a hilly labyrinth. There were sometimes views over the mall from on high then we would be back in a gully or tunnel, twisting and turning on our route. The holes themselves were 3 or 4 shots each which was a good test for us. We were kept on our toes by some nice options for trick shots.
Rock of Ages Black Light Mini Golf
This second mini golf was a glow-in-the-dark layout with a rock music theme. This was visually appealing with great colours and a few fun tricks like rolling your ball through a juke box to make music. However most holes were quite flat and the attraction is really the décor and sound. Each hole was only 2 or 3 shots each to complete so it was much faster than Moose Mountain Adventure golf and tested our skills less.
The queue for Rock of Ages mini golf was mainly adults and the queue for Moose Mountain golf was mainly children. I would recommend each group tried the other mini golf, it might suit them better than they imagine!
Food Hall
There are plenty of restaurants but we grabbed a quick lunch in the food hall. Here at the Naf Naf Grill I had the only kebab I've ever eaten in the USA and very nice it was too. It was called a Shawarma but I know a kebab when I see one! The girls had chicken and chips from A&W which is pretty much all they survived on for ten days in the Midwest.
Sea Life Aquarium
Next we went down to the basement to visit the Sea Life Aquarium. It was that great winning formula of all the best Sea Life Centre Aquariums the world over. The funny thing for me was that we were so incredibly far from the ocean in Minneapolis! Nonetheless the same dedicated conservation work was underway at this aquarium and there was a very telling display of jellyfish in one tank and plastic bags in another that looked so similar. It really makes you think about pollution.
A very large, supervised touch and feel tank is near the entrance. Further on I fulfilled a lifetime ambition and fed a ray. We especially liked the display of graceful seahorses. The shark tunnel was fabulous; really long and with a big range of very active creatures including massive swordfish, some of whom were rescued and being nursed back from injury.
Nickelodeon Universe Theme Park
All too soon the visit to the Sea Life Centre was over and we made our way to Nickelodeon Universe. It was quite late so we just picked a few rides. This is a serious theme park with some awesome thrills. It deserves a full day to get around all 27 rides. You can ride, shop elsewhere in the Mall and come back for more later; the rides are not in a fenced-off area.
Fizz had been a bit unwell the previous day so we selected a coaster which didn't look too challenging – no upside-down bits anyway. The Pepsi Orange Streak gives a great view of the whole park, travelling at a height. The track goes all around over the top and around other rides so you get a bit of a tour – if you get time to look! Belle loved that and rode it two times.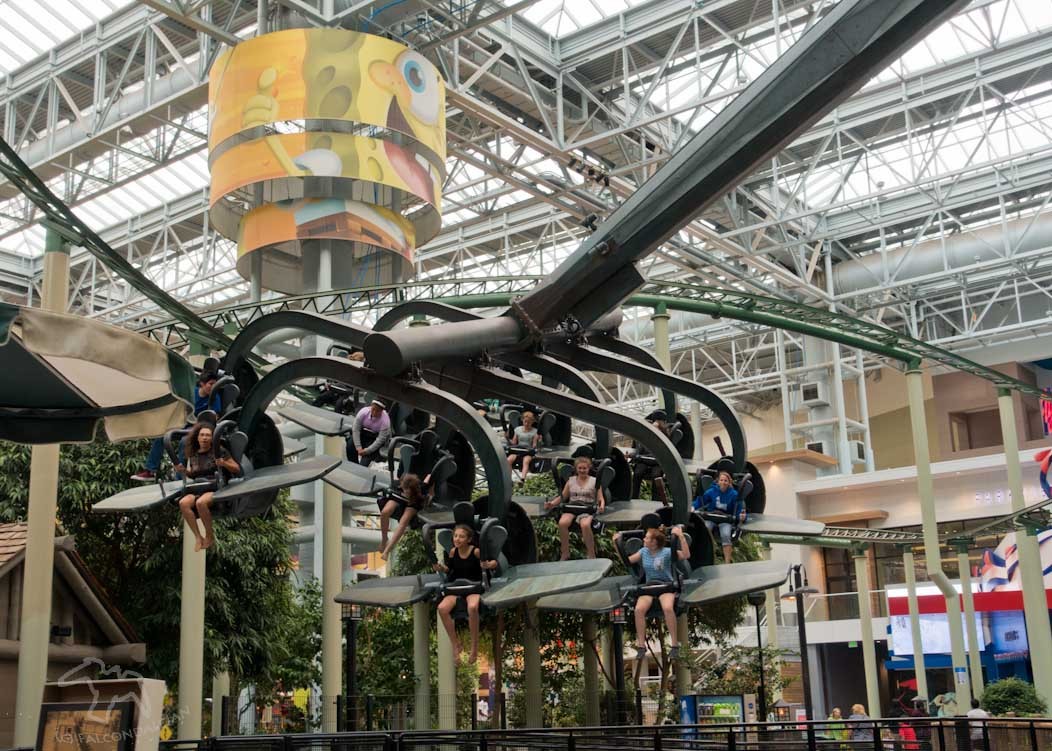 None of us were brave enough to go on the rides like the Spongebob Squarepants Rock Bottom Plunge. Nor did we try the Avatar Airbender but it was fantastic to watch. Teenage Mutant Ninja Turtles Shell Shock is a lovely ride were each person straps into a turtle shell and flies in swooping arcs like a superhero. You have control over your own spin here. There are some upside down or plunging rides but the range is excellent with less scary experiences too like the Log Chute. Eleven of the rides are ideal for smaller kids and I particularly liked the look of the adorable baby bumper cars with a Rugrats theme.
Plan a visit
I still can't get over the fact this huge park fits inside a shopping mall. Minneapolis is northerly with variable weather so being indoors means Mall of America is a year-round destination. Anyone using KLM/Delta to fly from Europe would do well to consider a route through Minneapolis to make a visit here. Minneapolis airport is a main hub for these airlines and there is a vast range of internal onward flights throughout the whole USA. This is a real undiscovered gem for European thrill seekers and tourists. We didn't see any other British and European travellers on our ten days in the Midwest so I'm delighted to have been welcomed by Mall of America to write a review.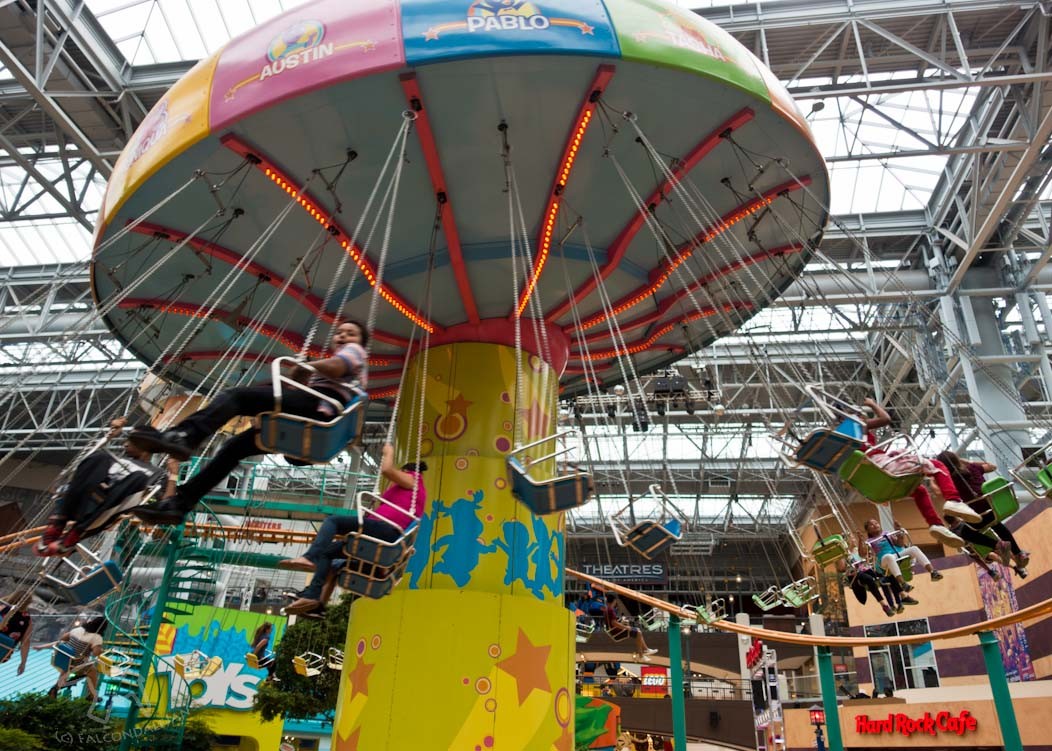 Disclosure: we were kindly given tickets for the two mini golfs, Sea Life and Nickelodeon Universe rides for the purposes of this review but all opinions are my own. 
Additional Gallery